Original Logo Design created by Logicastle
The iconic logo created for Fredrick Lee was exactly what they were looking for.  They wanted to stay away from the "Handy Man" look while displaying a bold, higher end remodeling service that is memorable, classy and professional.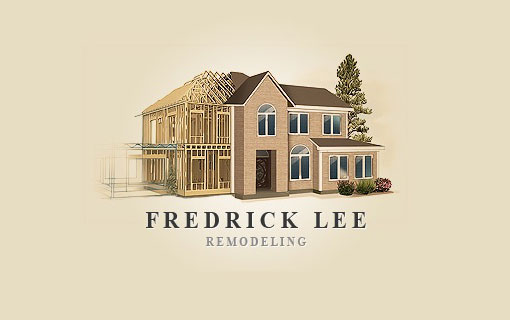 Fredrick Lee Remodeling Video Promotion
In addition to the home improvement web design, this promotional video was created using Final Cut Pro and Motion. Original, stock video clips and animation was used to visually present the Fredrick Lee message with an effective local appeal.
Fredrick Lee Remodeling Website
Home Improvement Web Design – Mchenry, IL Remodeling:
For more than fifteen years, Fredrick Lee has been focused on providing homeowners with innovative design, meticulous craftsmanship and high quality, personalized service.
Fredrick Lee contacted us about redesigning their website and making a range of improvements to finish off the site. We discovered that the remodeling business was fierce and saturated, but through strategy, research and professional web design and functionality, we would help to realize Fredrick Lee's fullest potential.
The new home improvement web design website needed to be bold, vibrant, professional and aligned to the Fredrick Lee vision, while retaining its own unique brand identity. We designed the website by analyzing competitors and researching target markets in a way that met Fredrick Lee's requirements.
The aim of this home improvement web design project was to raise awareness of Fredrick Lee Remodeling, maximizing sales and helping to make it become a huge success.
Our Solution
Website to adapt seamlessly to desktop, mobile and other screen sizes
New Logo Design and Promo Video that showcased Fredrick Lee services and brand name
Custom graphics and hi-end photography to enhance user experience and improve first impressions
Blog and social media features for Facebook , Twitter and Youtube
Advice on the best content strategy for the site and how to utilize it to create different types of content
File Transfer Protocol (FTP) allowing for easy website maintenance
SEO advice and support – to maximise traffic and help people find the Fredrick Lee website
The Results
Improved appearance, converting visitors into clients, increased revenue and page #1 rankings on Google for:
mchenry remodeling
mchenry home improvement
mchenry basement remodeling
mchenry residential remodeling
mchenry commercial remodeling
general contractors in mchenry
---