Original Logo Design created by Logicastle
The Logo was a key component in representing Salata's rich history within the community.  Showcasing the Logo with a warm, inviting and organic feel was our primary goal before moving forward with the website re-design.  We accomplished this by incorporated an original pencil drawing of the Salata Gurnee Funeral Home – A landmark in the community and a beautiful historic colonial home dating back to 1897.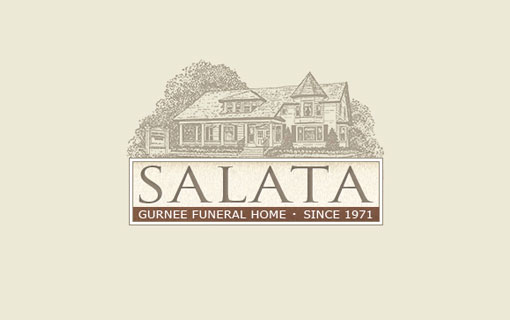 Salata Gurnee Funeral Home
Funeral Home Web Design | Gurnee Funeral Home:
Independently family owned and operated, The Salata Gurnee Funeral Home has been committed to meet the diverse and varied needs of the community since 1971.   They continue to serve families by providing quality personal attention and compassion as they did when they first began.
When approached by the Salata family to re-design their website, our client was very clear about their objectives.  We designed a funeral home website that reflected their rich 40 years history in the community and a warm an inviting appearance that would separate their business from the rest.
In addition, we incorporated an online obituary where family and friends could post a story about their loved one, with photos, making it permanently available to those who live near and far from them.  We also added "Leave a Condolence" and "Search for a Loved One" functionality, making it very easy for the end user.
Our Solution
Fully responsive website to adapt seamlessly to mobiles and other screen sizes
Custom graphics and hi-end photography to enhance user experience and improve first impressions
WordPress content management system to allow the client to easily update the website on their own
WordPress theme and plug-in customizations to meet the client's exact requirements
Online Obituary created in WordPress – easy for the client to update on a daily basis
Advice on the best content strategy for the site and how to use WordPress to create different types of content
SEO advice and support – to maximise traffic and help people find the Salata Gurnee Funeral Home website
The Results
Improved appearance, converting visitors into clients, increased revenue and page #1 rankings on Google for:
lake county funeral homes
gurnee funeral homes
waukegan funeral homes
libertyville funeral homes
zion funeral homes
and more!
---